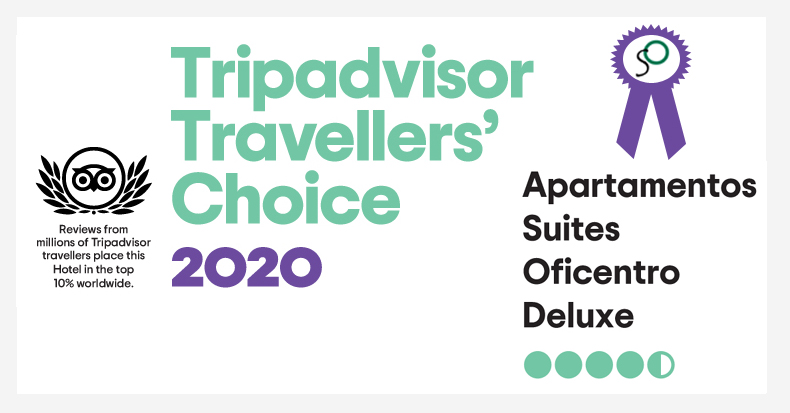 Four years since the opening of Apartamentos Suites Oficentro Deluxe, and a lot of work done, have helped us to be awarded by Tripadvisor. It gives that to the establishments that are best valued by customers on its prestigious opinions platform.
Tripadvisor awards with 'Travelers' Choice' award to accommodations, attractions and restaurants that consistently receive excellent reviews from travelers and are among the top 10% of Tripadvisor properties.
With 76 verified opinions, we are in the Top 20 of accommodation in Malaga, on this platform. The quality of our services is reflected in the wonderful evaluations we receive from our clients and we can only thank those who have trusted, and continue to trust, in our apartments.
In these difficult times, we pay special attention to the quality that we put into our services and we are proud to know that our efforts are rewarded in the best possible way: the enjoyment of our clients. Being in the top 10% of the best establishments is a great reason for joy!
Throughout our online career we have managed to position ourselves with excellent ratings for our apartments on all the pages where we appear, starting with Google (with an average score of 4.4 out of 5) and going through big agencies such as Booking.com (with a 8.9 out of 10) or Expedia (also 4.4 out of 5).
From now on, the Tripadvisor page will also recognize our great work and will display the 'Traveler's Choice' seal in our establishment, thus informing all visitors of such a valuable award and informing that booking with us is a safe bet.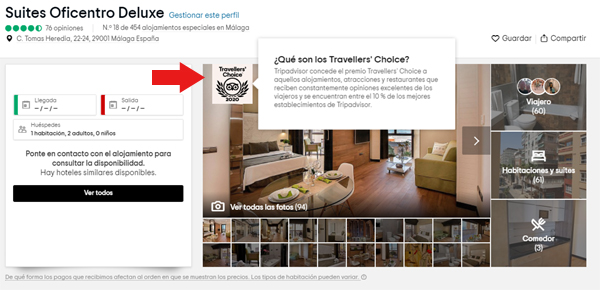 If you have been staying in our apartments in Malaga, but you have not yet left your assessment, we encourage you to leave a comment about your stay and thus help other travelers looking for your accommodation in Malaga:
LEAVE A COMMENT FOR SUITES OFICENTRO DELUXE ON TRIPADVISOR
And if you haven't visited us yet, we invite you to plan your next getaway to Malaga and stay in our apartments with hotel services: ASK AVAILABILITY AND PRICE
Once again, the team at Suites Oficentro & Deluxe gives THANKS to all clients and friends who continue to choose our apartments on their visits to Malaga. FROM ALL OUR HEART.